New Deer Substation
Type

Transmission reinforcement

Location

Aberdeenshire
View Project Map
Overview
Status: Construction Phase
Stage 4 of 5 complete — This is the stage where we mobilise our people, contractors and equipment. The project is well underway at this point.
About the Project
We have constructed a new 400/275kV substation adjacent to the existing transmission overhead line at New Deer, in the north east of Scotland.
The substation has been constructed to operate at a voltage of 275kV, with a view to being upgraded to operate at 400kV in the future. The transmission system in the north east and east coast of Scotland will be upgraded to 400kV over the next decade, in order to facilitate this, we are proposing both upgrading the existing overhead line network in the region and installing new substations at various points.

These works are required to allow increased generation capacity access to the transmission system, while keeping the network fully operable and compliant with all necessary technical standards. Without these necessary reinforcements, the network cannot facilitate all generation connections.
Establishing the substation at New Deer addresses this issue and in effect increases the networks efficiency and capability. Power sharing across these circuits becomes more important as generation load increases on the system.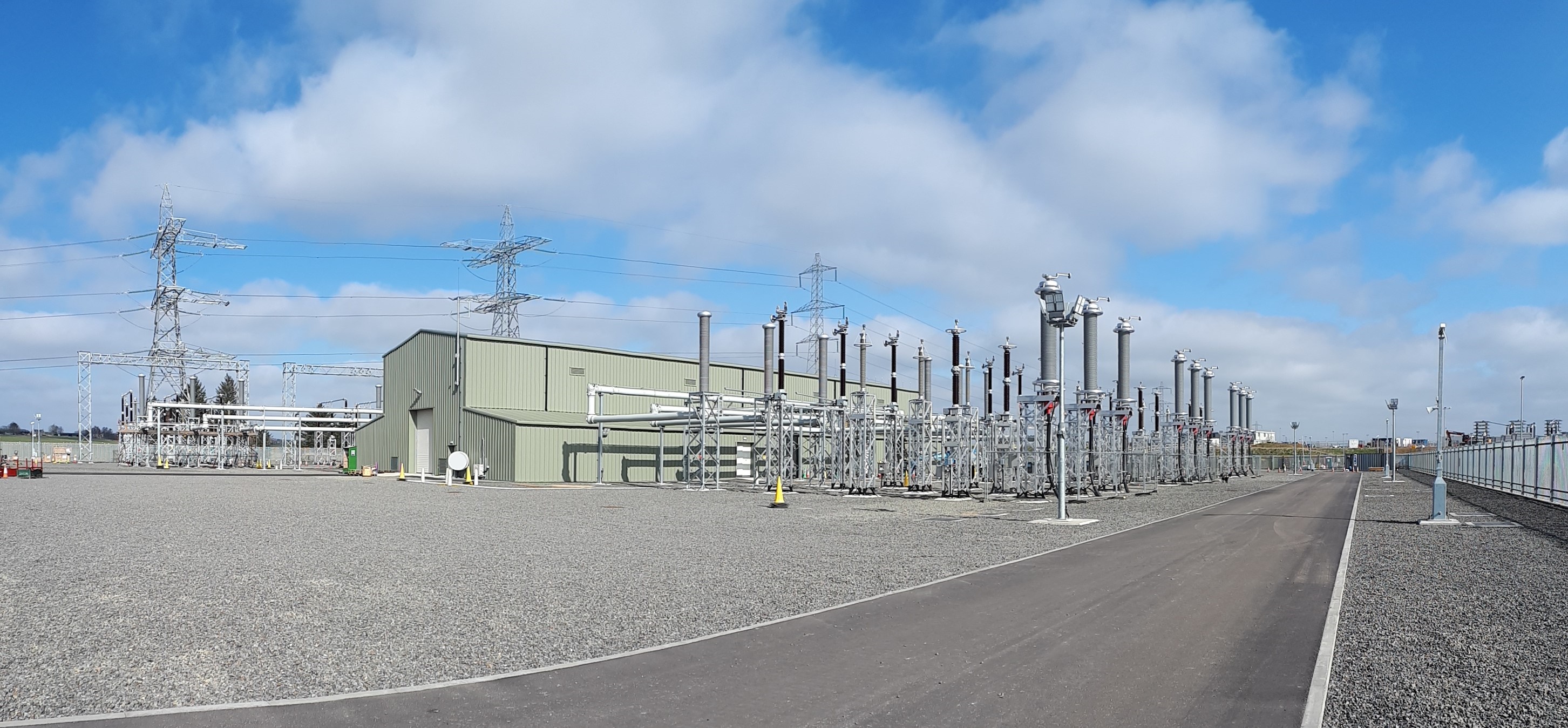 Why is the Project Required?
There is a significant amount of renewable energy scheduled to connect to the energy transmission network in the north east of Scotland over the next ten years. One of the key generators of this is the Moray Offshore East Wind Farm, a 900MW offshore wind farm situated in the Moray Firth, which was given consent by the Scottish Government in 2014.

It has been determined that New Deer is the optimum location for Moray Offshore East to connect to the GB transmission network. To facilitate this connection, there will be two substations built at New Deer. One of which will be owned by Moray Offshore East and the other will be owned, operated and maintained by us.
Find Out More About Moray East Offshore Wind Farm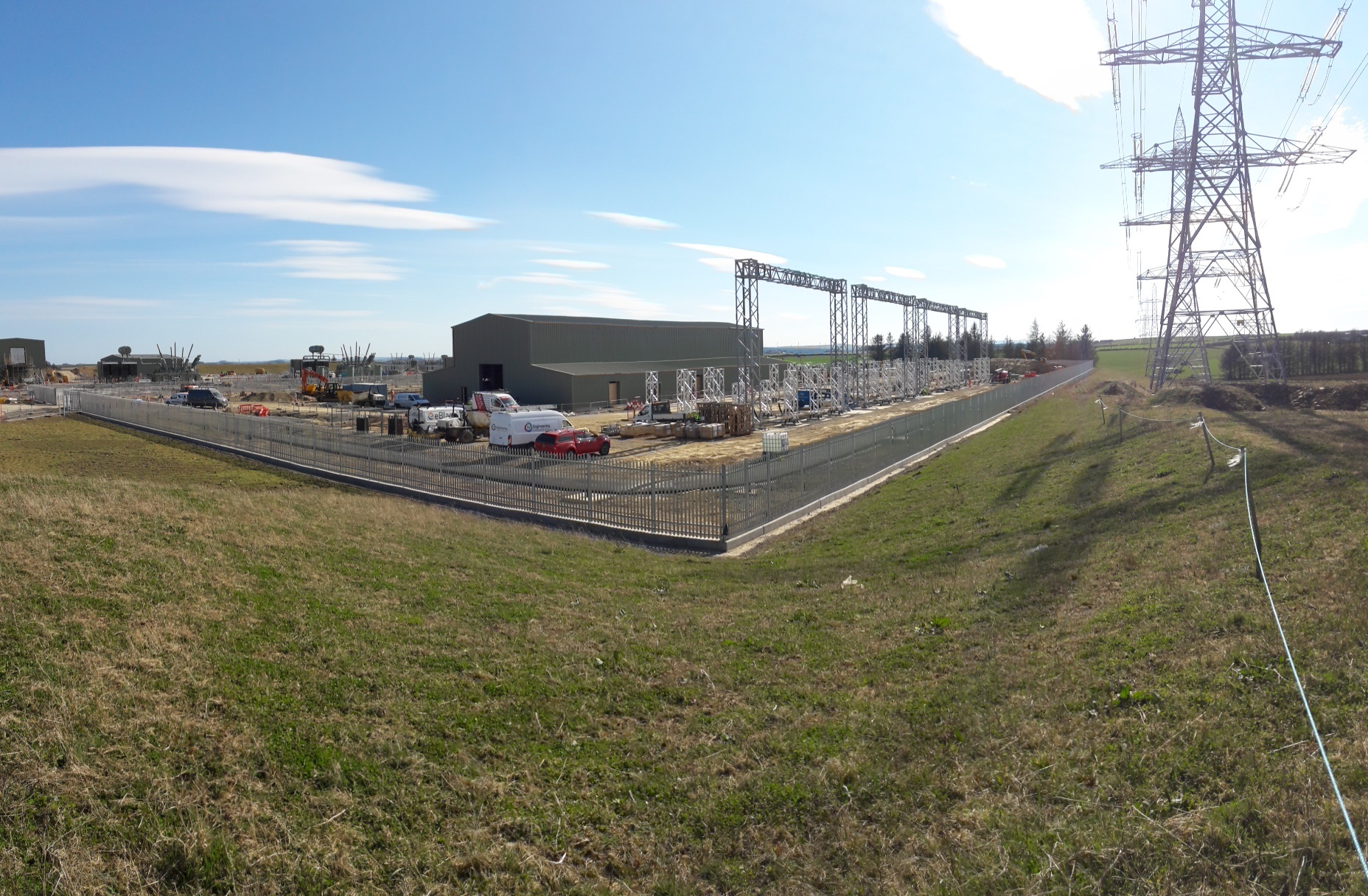 Community Engagement
Throughout the life of our projects, we aim to work positively with local communities and keep people informed about what we are doing. This is particularly important when we are developing a proposal and we want to understand what local people think about our plans.
We endeavour to take the time to discuss proposals with local community councils, encourage engagement from the wider community and listen to the feedback we receive.
We will do our best to answer any questions and address issues or concerns that are raised with us.
When our project progresses into construction, we will continue working closely with the local community to ensure that our work has as little impact on the lives of those living and working in the area and as many long term positive effects as possible.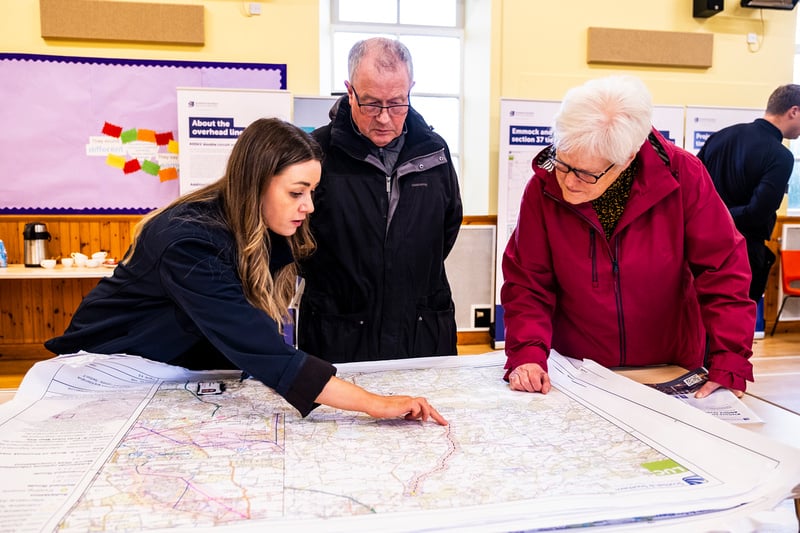 Project Updates
New Deer Substation progress video
We have a look back at 2 years of progress at New Deer Substation which captures the development of the site in just 2 minutes. Click on the image to view the video.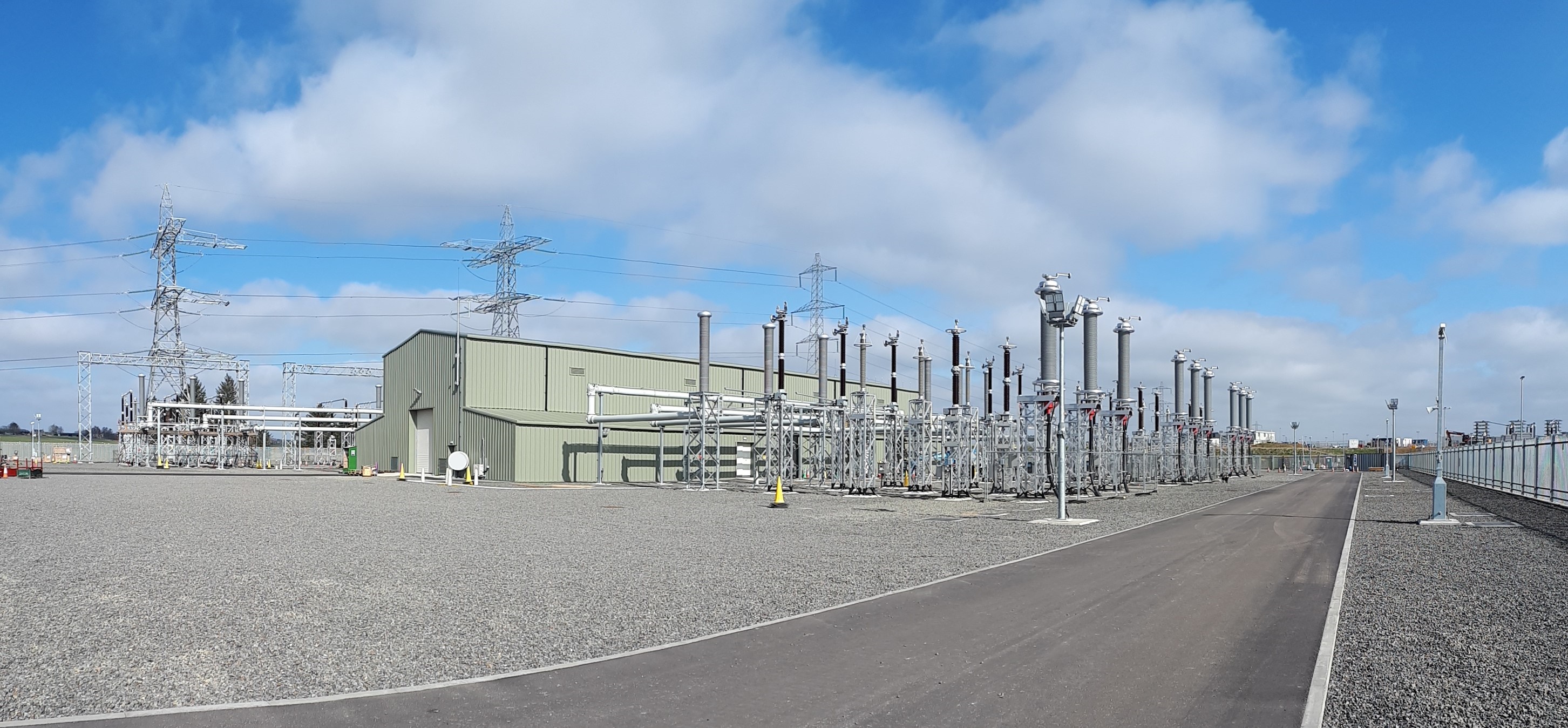 Energisation of New Deer Substation
SSEN Transmission announced today yet another important milestone on the pathway to net zero, energising the first g3 gas-insulated substation on its network at New Deer, leading the UK's electricity industry with the world's largest installation to date of GE's g3 SF6-free gas. The new substation will not only facilitate the connection of 900MW new clean renewable energy to the grid from Moray East Offshore Windfarm, but by installing GE's g3 gas, it is helping to support the transition to net zero emissions and the fight against climate change by reducing SF₆ gas usage on the transmission network.The energisation of the site marks just over two years of hard work for SSEN Transmission and their principal contractors, a consortium of GE and Amey, to bring the substation online. Now energised, the substation forms part of SSEN Transmission's reinforcement and improvement of the transmission network in the North East and East Coast of Scotland enabling renewable generation to be transported from where it is generated to centres of demand across the country.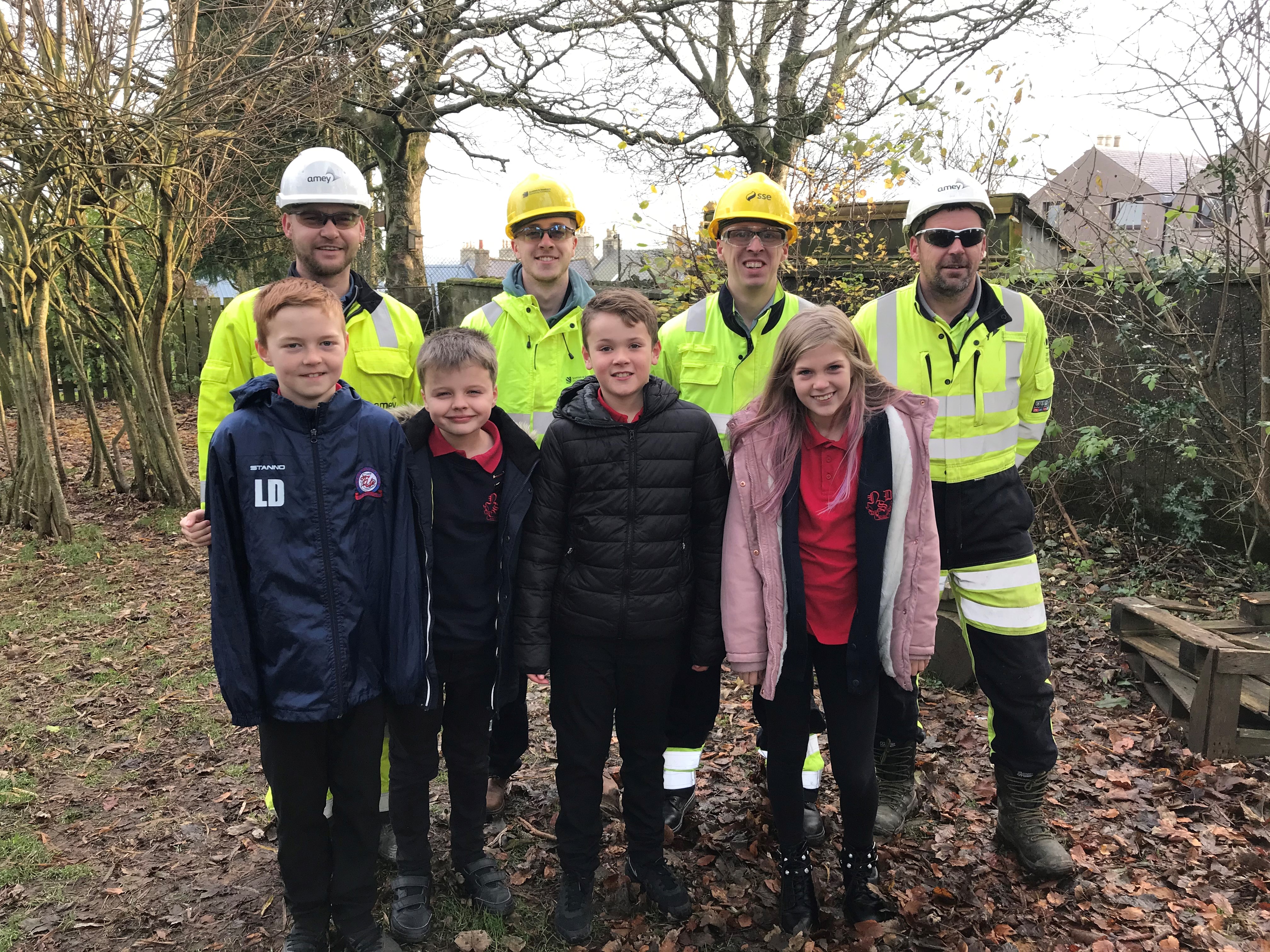 New Deer Primary School
Scottish & Southern Electricity Networks (SSEN) Transmission and Amey staff visited the New Deer Primary School this week to talk to the children about keeping road safe and to put their skills to good use, tidying up the school's eco-garden, repairing and painting some planters and donating some park benches for the children.
Project Gallery
Progress Gallery
A selection of photographs documenting the project construction progress.
Project FAQs
FAQs
SSEN Transmission is responsible for maintaining and investing in the electricity transmission network in the north of Scotland and our network extends over a quarter of the UK's land mass, crossing some of its most challenging terrain.
Our operating area is home to vast renewable energy resources, and this is being harnessed by wind, hydro and marine generation. Working closely with National Grid Electricity System Operator (the 'ESO'), we enable electricity generators to connect to the transmission system, allowing the electricity generated by them to be transported to areas of demand across the country.

Following a minority stake sale which completed in November 2022, SSEN Transmission is now owned 75% by SSE plc and 25% by Ontario Teachers' Pension Plan Board.

SSE plc sold its UK domestic electricity and gas retail business, along with domestic energy services to OVO Energy in January 2020 and no longer manages these customer accounts.

It's the highest voltage electricity network in the UK – the 'motorway network' of the energy world. It transmits large quantities of electricity over long distances via wires carried on a system of mainly metal towers (pylons) and large substations. Transmission voltages in Scotland are 132kV, 275kV and 400kV. Larger generation schemes usually connect to the Transmission system.

The lower voltage parts of the system are called distribution networks. In Scotland, these local networks operate below 132kV whereas in England the distribution network includes 132kV.

As a stakeholder-led business, throughout the life of our projects, we aim to work positively with local communities and keep people informed about what we are doing. This is particularly important when we are developing new projects, we want to understand what local people think about our plans.

We always endeavour to take the time to discuss our proposals with local community councils and the wider affected community and to carry out engagement throughout each of the development stages, listening to feedback before finalising project plans. The feedback we receive is vital to help us develop proposals that reflect the views of a variety of stakeholder.

To find out more about a project, visit our project web pages which can be searched by location or area. Each project has a dedicated Community Liaison Manager that you can contact. You can find their contact details in the individual project pages, where you can also sign up to project updates.
We would like to send you relevant communications via email, such as invitations to stakeholder events, surveys, updates on projects and future developments. If you are happy to receive email updates, please opt-in by ticking the box. You can unsubscribe at any time by contacting us at unsubscribe@ssen.co.uk, or by clicking the 'unsubscribe' link which will be at the end of each of our emails.
Recite me
To support everyone online, we provide accessibility and language options on our website through 'Recite me'. The accessibility and language support options provided by 'Recite me' include text-to-speech functionality, fully customisable styling features, reading aids, and a translation tool with over 100 languages, including 35 text-to-speech. Please select "Accessibility" on our website to try out our inclusive toolbar.

To make use of this function please click on the 3 'A's' button at the bottom left of the website.
Latest News
Have we heard you correctly? Share your views on our 2021/22 Draft Annual Engagement Plan
Community engagement at Rothienorman substation site is praised by local councillors
25 Apr 2019