Delivering Net Zero - Pathway to 2030 and our next Business Plan
Background
Scotland's transmission network has a strategic role to play in supporting delivery of the UK and Scotland's Net Zero targets and, as the Transmission Operator for the north of Scotland, we are working to deliver a Network for Net Zero.
We're already a mass transporter of renewable energy, with around two thirds of power generated in our network area exported to demand centres further south. By 2050, the north of Scotland is expected to need 40GW of low carbon energy capacity to support net zero delivery. For context, we currently have around 9GW of renewable generation connected in the north of Scotland.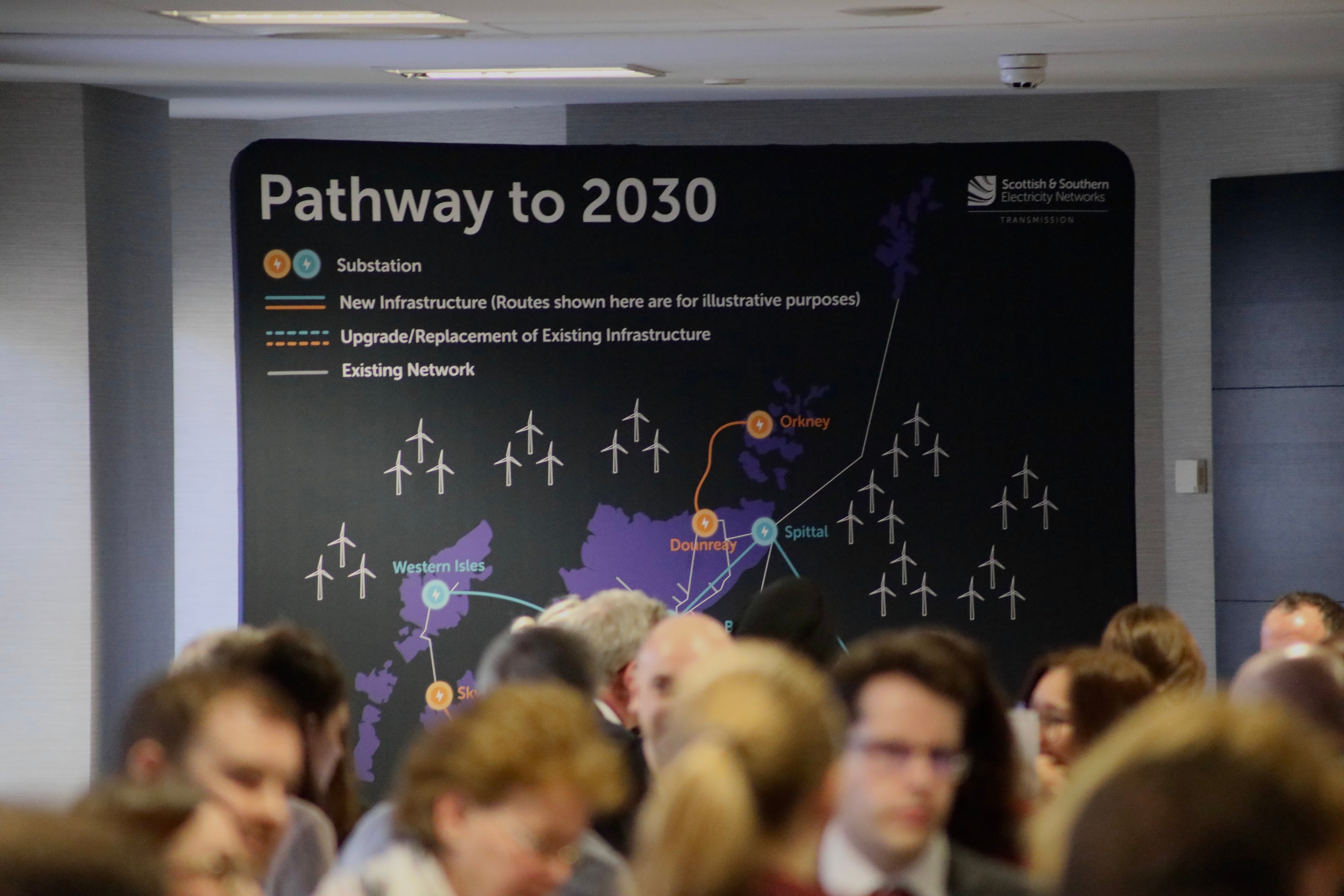 We are currently investing £10bn to upgrade the network around key areas, connecting new onshore and offshore renewables generation in the north of Scotland so the power can be transported across the country. Many of the projects required to 2030 are already known and in development. This first phase of investment is critical to powering change and meeting Scotland and the UK's renewable energy targets, accelerating our delivery to meet the 2030 offshore wind connection dates, known as the Pathway to 2030. Further details of our Pathway to 2030 Projects and some frequently asked questions can be viewed on our dedicated webpage, where you can also sign up to be kept updated on Pathway to 2030 projects.
Our Future Business Plan
We are now planning the work required in the second half of the decade. These future investments will play a vital role in helping ensure our future energy security by using affordable, home-grown, low carbon electricity, while providing significant economic and employment opportunities across the north of Scotland.
This will form part of our future Delivery Plan (2026-2031) and will require approval by the GB energy regulator, Ofgem, who determines how much revenue we are allowed to earn for constructing, maintaining and renovating our transmission network in the north of Scotland. These costs are shared between all those using the transmission system, including generation developers and electricity consumers.
You can find out more about the regulatory price control process on Ofgem's website. Ofgem is currently considering the most appropriate regulatory framework for the challenges and opportunities that lie ahead and, in September 2022, published an Open Letter which outlined their initial views.
A Stakeholder-led Business Plan
The first stage of developing our delivery plan is to provide stakeholders with an introduction to our early thinking on the strategic themes which will be important for the next price control period and our future Delivery Plan.
Our first stakeholder event, 'Delivering Net Zero - The Pathway to 2030', took place in Glasgow on 22 February 2023.
Through a series of presentations and roundtable discussions we explored the themes of delivering Net Zero; Network Security; and Economic, Social and Environmental Legacy.
With stakeholder representation from a wide range of sectors, it provided us with the opportunity to hear stakeholders' views and opinions which will be invaluable in developing our thinking in these areas. The presentations, slides and feedback from the event are available to download below.
For further opportunities to help us develop and shape our 2026-2031 Delivery Plan, please sign up for updates using the form below.
Stakeholder Engagement Event - February 2023
We have provided copies of the presentation, transcript and feedback relating to our stakeholder event below.
Related articles
'Pathway to 2030' – Delivering 2030 Government targets and the transition to net zero

The 'Pathway to 2030' sets out the blueprint for the electricity transmission network infrastructure required to enable the forecast growth in renewable electricity across Great Britain, including the UK and Scottish Governments 2030 offshore wind targets of 50GW and 11GW.

Ofgem approves transmission investments required for 2030 Government targets

SSEN Transmission welcomes Ofgem's approval of the need for the strategic electricity transmission reinforcements required to deliver the UK Government's 50GW offshore wind by 2030 target, set out as part of the regulator's Accelerated Strategic Transmission Investment (ASTI) framework.

Get connected to our transmission network

Making sure that generation developments can connect to our network is one of our primary responsibilities as the owner of the electricity transmission network in the north of Scotland. We have a huge job to do over the coming years to make sure that our network is capable of connecting planned additional generation capacity.

Infrastructure Stakeholder Engagement Survey

Our Infrastructure Stakeholder Engagement Survey has given us the opportunity to have our engagement independently appraised by stakeholders and use their experiences and feedback to enhance our engagement and improve overall stakeholder satisfaction.

Our role in delivering Net Zero

Watch our video to learn more about the work SSEN Transmission is doing to deliver Net Zero.

Sustainability and environment

Our sustainability ambitions are both bold and expansive. We have shown leadership in the development and implementation of biodiversity net gain approaches in Scotland, and have ambitions to expand this philosophy to woodland cover and into the marine environment.