Kintore - Fiddes - Tealing 400kV Connection
Type

New Overhead Line

Location

Aberdeenshire, Aberdeen City, Angus
Project Updates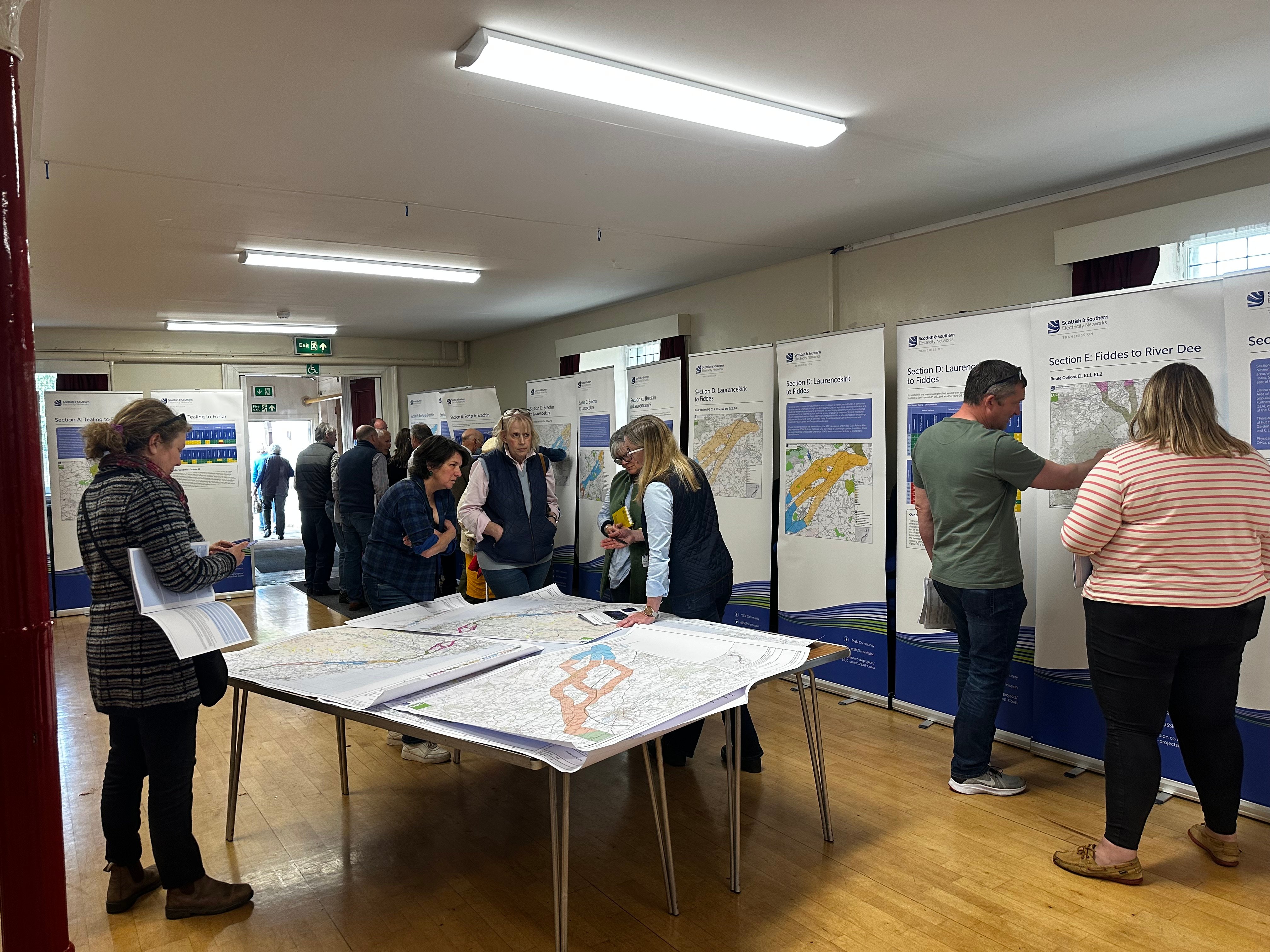 Report on Consultation
Our Reports on Consultation across our three new overhead line projects and associated substation and convertor station developments have now been published. These reports provide a summary of the extensive feedback received during consultation, how this has been considered and confirmation of which routes and substations are now being taken forward to the next stage of development.
Our Reports on Consultation are now available to download from the Project Documentation tab.
Summary Reports on Consultation are also available for each of the three schemes and can be downloaded below:
A stakeholder webinar available for all to join will be held in the coming weeks to share the changes informed by the feedback. More information about the forthcoming webinar will be shared on our events page shortly.
In further recognition of community feedback, we will seek to rationalise cumulative infrastructure impacts through the removal and undergrounding of existing transmission lines, where technically practical and appropriate, and subject to all necessary planning consents and landowner agreements.
Work to identify and assess potential sections of existing overhead line where their removal will reduce cumulative impacts is ongoing, with an update expected as part of the next round of public consultation on overhead line alignments and more detailed substation designs in early 2024.
We would once again like to thank all stakeholders who took the time to engage with our early consultation process. We will continue to engage with stakeholders ahead of consulting further with local communities and stakeholders in the new year, as we look to refine our proposals.
Report on Consultation
Over the course of this year, we have undertaken extensive consultation on plans to upgrade the electricity transmission network across the north of Scotland and have received a considerable amount of feedback from a wide range of stakeholders regarding our proposals.
We recently advised in our next steps for 2030 network developments update that following assessment of consultation feedback and additional options analysis, we would publish our Report on Consultations (RoCs). These reports provide a summary of the feedback received and how it has been considered, which options we will take forward to the next stage of the development process and any changes to options initially consulted on.
It is our intention to publish the RoCs for this project in the coming months. All stakeholders signed up for updates on the project will receive a link to the report and we will also issue Summary Reports to help ensure accessibility.
These Report on Consultations mark the completion of the first round of non-statutory consultation, where we sought feedback on the corridor, route, and substation locations. We will be consulting further with local communities and stakeholders in the new year, as we look to refine the projects, therefore we welcome an open channel of communication and would like to reassure all stakeholders that there will be further opportunities to engage on this project.

Our Reports on Consultation and Summary Reports on Consultation are now available to download from the Project Documentation tab.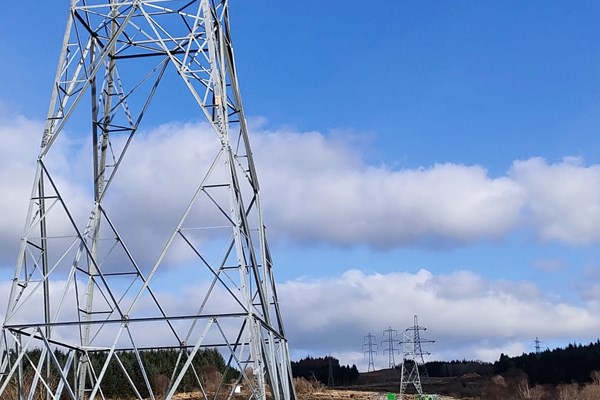 SSEN Transmission sets out next steps for Pathway to 2030 network developments
We have announced our next steps for our Pathway to 2030 programme of projects. We would like to thank everyone who has engaged with our teams and kindly taken the time to respond to our consultations.
Full details of the announcement can be found here:
Next steps for Pathway to 2030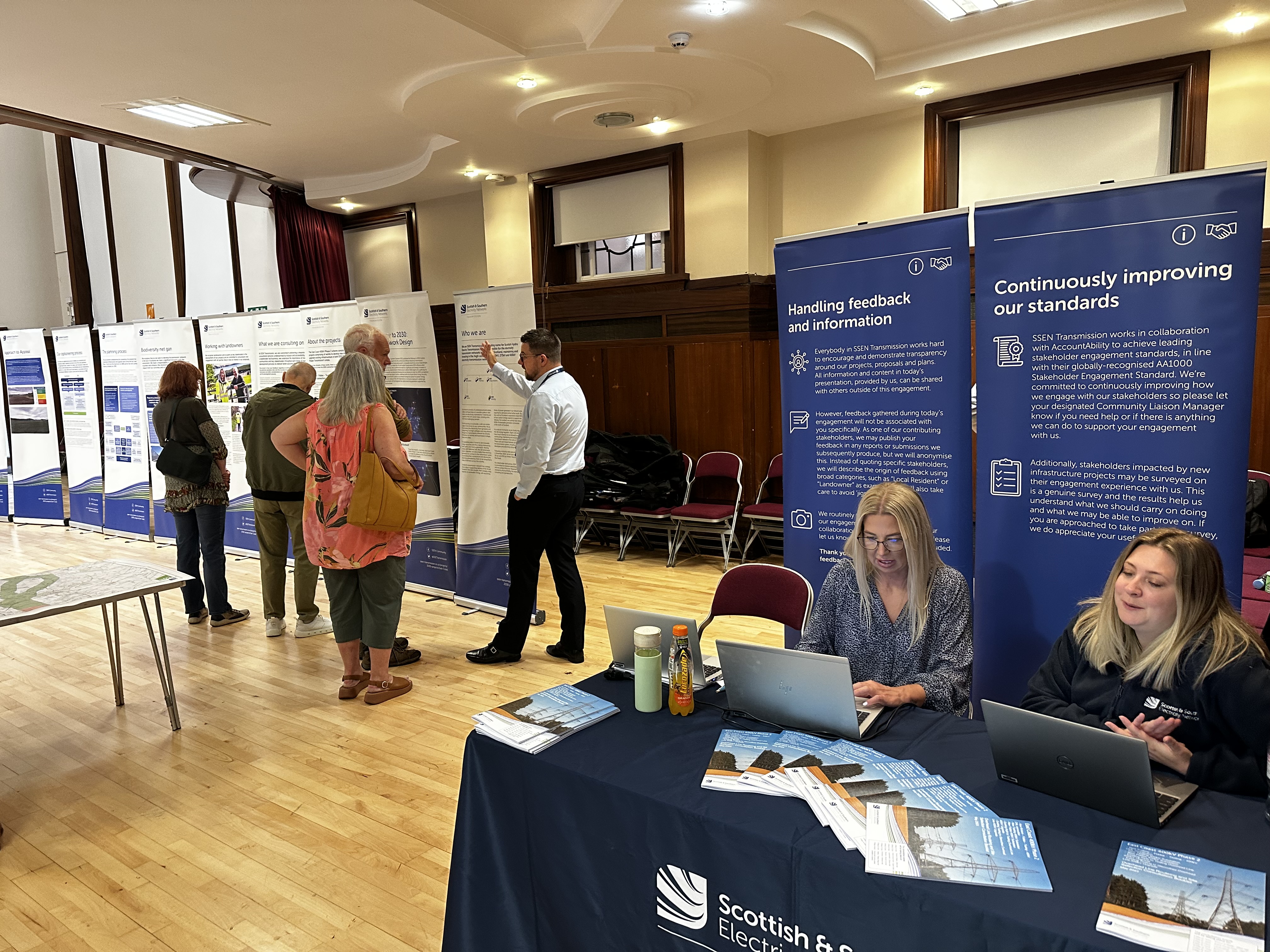 Feedback period closed
The feedback period on our recent period of consultation for our East coast 400kV Phase 2 proposals which sought feedback on potential corridor and route options and preferred substation locations has now closed.

Further engagement with affected communities and wider stakeholders will continue beyond this consultation deadline, particularly in areas of local sensitivity, to help with our ongoing project development. The outcomes of the consultation exercise will be reported publicly in a Report on Consultation.

Throughout the development phase we will continue to engage with stakeholders and intend to hold a second public consultation event towards the end of the year.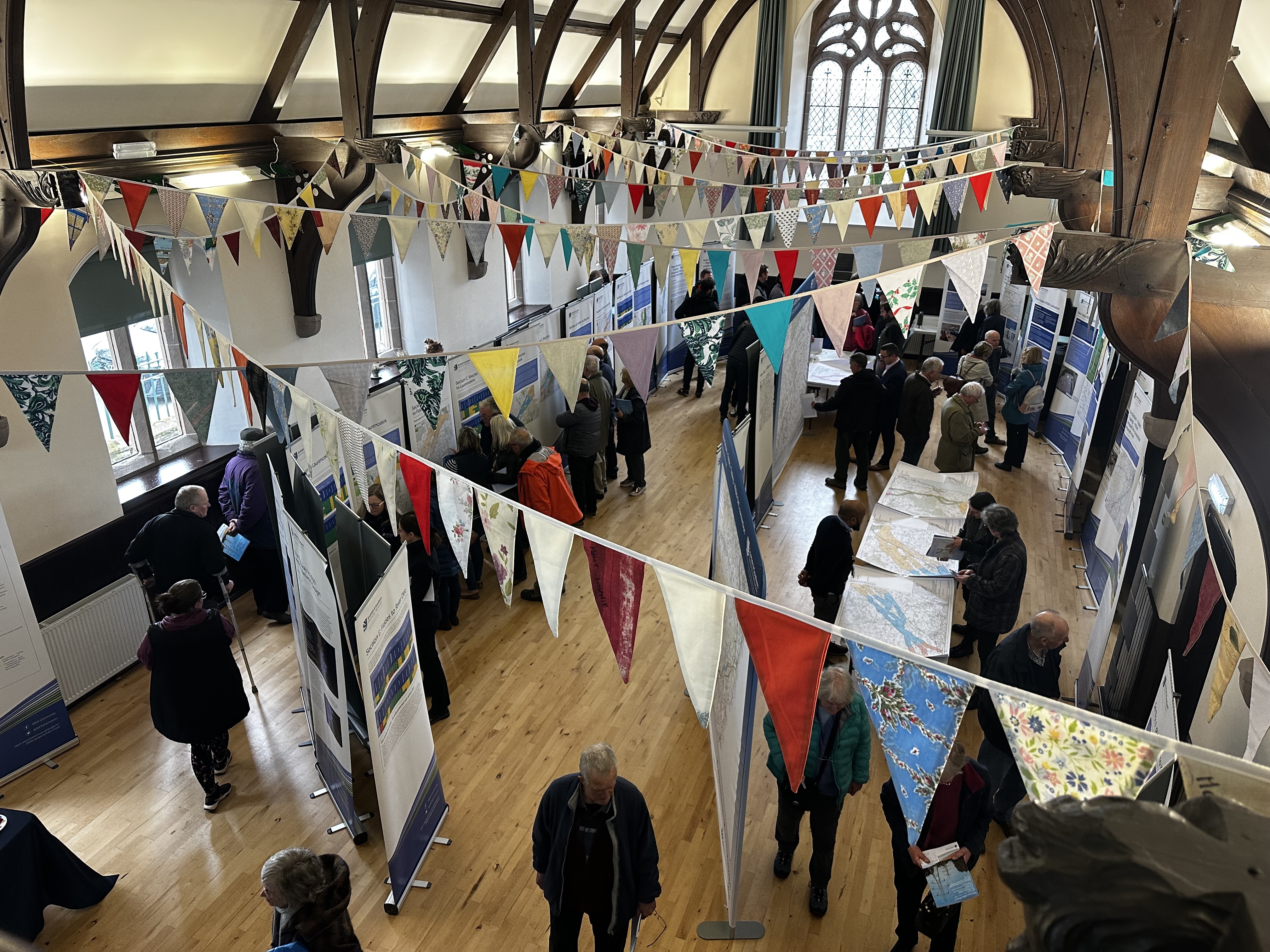 Forfar information event
Following the extension of the feedback period to 28 July 2023 on our proposals for a new 400kV network as well as reinforcing sections of the existing electricity transmission infrastructure between Kintore and Tealing via Fiddes and in response to community feedback in the Forfar and wider areawe we are pleased to be hosting a drop in information event in Forfar for members of the public and all interested parties from in and around the Forfar area to come and meet with members of the project team and give their views on the proposed projects that make up the East Coast 400kV PHASE 2.

The event details are as follows:

Forfar Reid Hall
13 July between 1-7pm

If you are unable to make the above event all the material that will be on display is available to be downloaded from the project documents section of this webpage however, we are aware of low internet speeds in the area and as such if you require information in an adapted format such as paper copy, large print or braille please let us know and we will work with you to accommodate your preferences.

We are happy to accommodate all reasonable requests for adapted communications.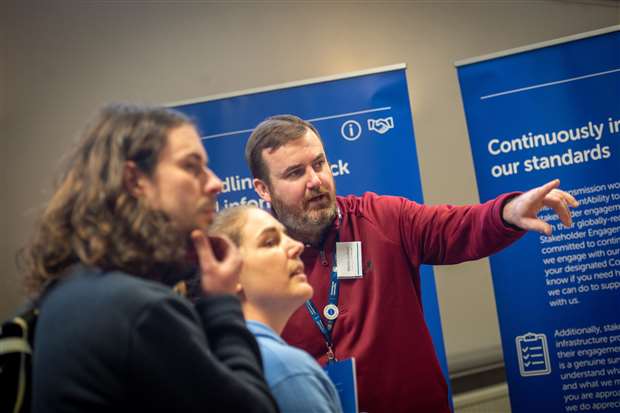 Public consultation feedback period extension
To allow more time for those interested in the East Coast 400kV phase 2 project to share their views we have extended the consultation period until Friday 28 July in recognition of the extent of local interest in the project and to allow stakeholders and members of the community more time to share their views on the initial proposals.

We would also like to reassure stakeholders that no decisions have yet been taken on potential overhead line routes or substation locations and the project remains at the early stages of development. All feedback received through the consultation will be carefully considered to help inform the ongoing development of this project.

If you have been unable to attend one of our consultation events, you can find all of the relevant consultation documentation within the project documents tab on this webpage.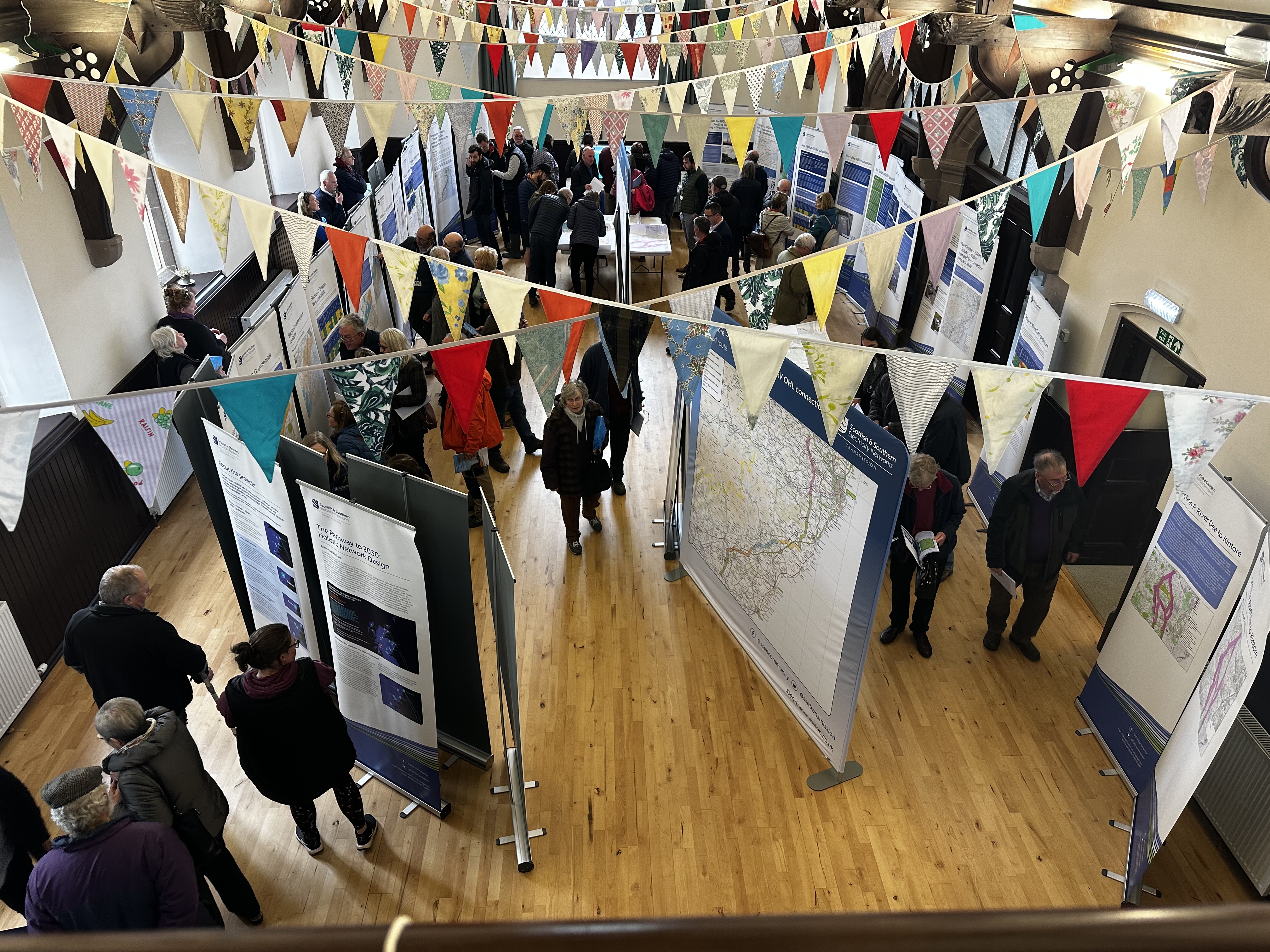 Initial response to consultation
We would like to thank all stakeholders who have taken the time to provide their feedback on our proposals to develop the East Coast 400kV phase 2 projects.

Following an initial review of the feedback received so far, SSEN Transmission has published an initial response to address some of the key themes which have been identified. Once the feedback period closes, a detailed Report on Consultation will also be published to explain how feedback has been considered to inform the more detailed network design.

The consultation period remains open and we continue to encourage anyone with an interest in the project to share their views by Friday 23 June.

The initial response to consultation is available to be downloaded from the project documents section of this website.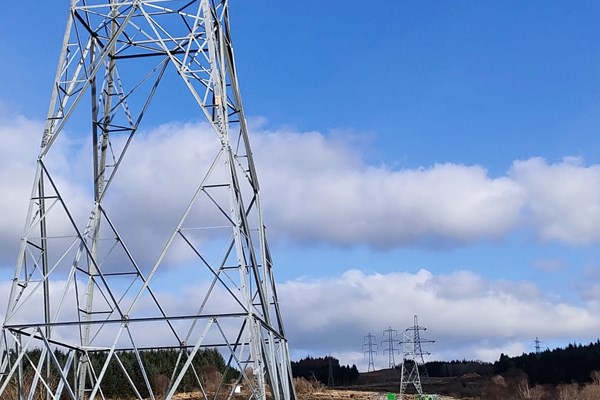 Survey works to help inform next stages of development
We have recently started localised surveys, assessments and ground investigation works at various locations across the Pathway to 2030 projects which will be used to help gather information to inform the next stage of development for a major electricity transmission network upgrade in the north of Scotland.
Over the coming weeks and months, our project teams and contractors will undertake a series of site-specific assessments which include the likes of ground investigations, bird surveys, LiDAR flights, and ecological and archaeological walkovers and assessments.
Ground investigation works have either recently commenced or are set to begin throughout the Summer for the new 400kV substation and converter stations proposed as part of our East Coast 400kV phase 2, Spittal – Loch Buidhe – Beauly 400kV connection, Western Isles connection and Beauly – Blackhillock – New Deer – Peterhead 400kV connection projects. Project teams and contractors will undertake a series of site-specific assessments which will help provide vital information and key data for the next phase of project development.
Some of the geo-technical ground investigations may involve drilling boreholes or digging trial pits, which will allow engineers to understand the geographical make-up and suitability of the ground in certain locations to help inform potential design options.
Site assessments and survey works are a key part of the project development process, and the results of these investigations will provide project teams with valuable information to help inform decisions regarding substation site selections and overhead line routes, which will be subject to further consultation later this year.
Initial surveys will prioritise sites and routes which performed the best based on our initial assessment of key environmental and people, technical, and economic factors, and there have been no decisions taken on locations as yet.
There may be more activity on the ground over the summer, and whilst most assessments are expected to cause very little local disruption, we would like to thank the local community for their patience whilst they are carried out. Where more evasive assessments are required such as ground investigation works, we will work to keep local disruption and environmental impacts to a minimum. Please contact your local Community Liaison Manager if you have any questions.
Public Consultation Feedback Period Extension
In recognition of the extent of local interest in the project, we have extended the consultation feedback deadline until Friday 23 June and hope this will allow all stakeholders with an interest in the project sufficient time to provide feedback.

Additionally for anyone that wasn't able to attend any of the in person events and would like a copy of the booklet which contains all the information displayed we have distributed copies to the following local businesses:

Farm to Table, Westerton Of Pitarrow, Laurencekirk.

Spar Cetras Energy UK, 3 Academy Street, Forfar, DD8 2XF.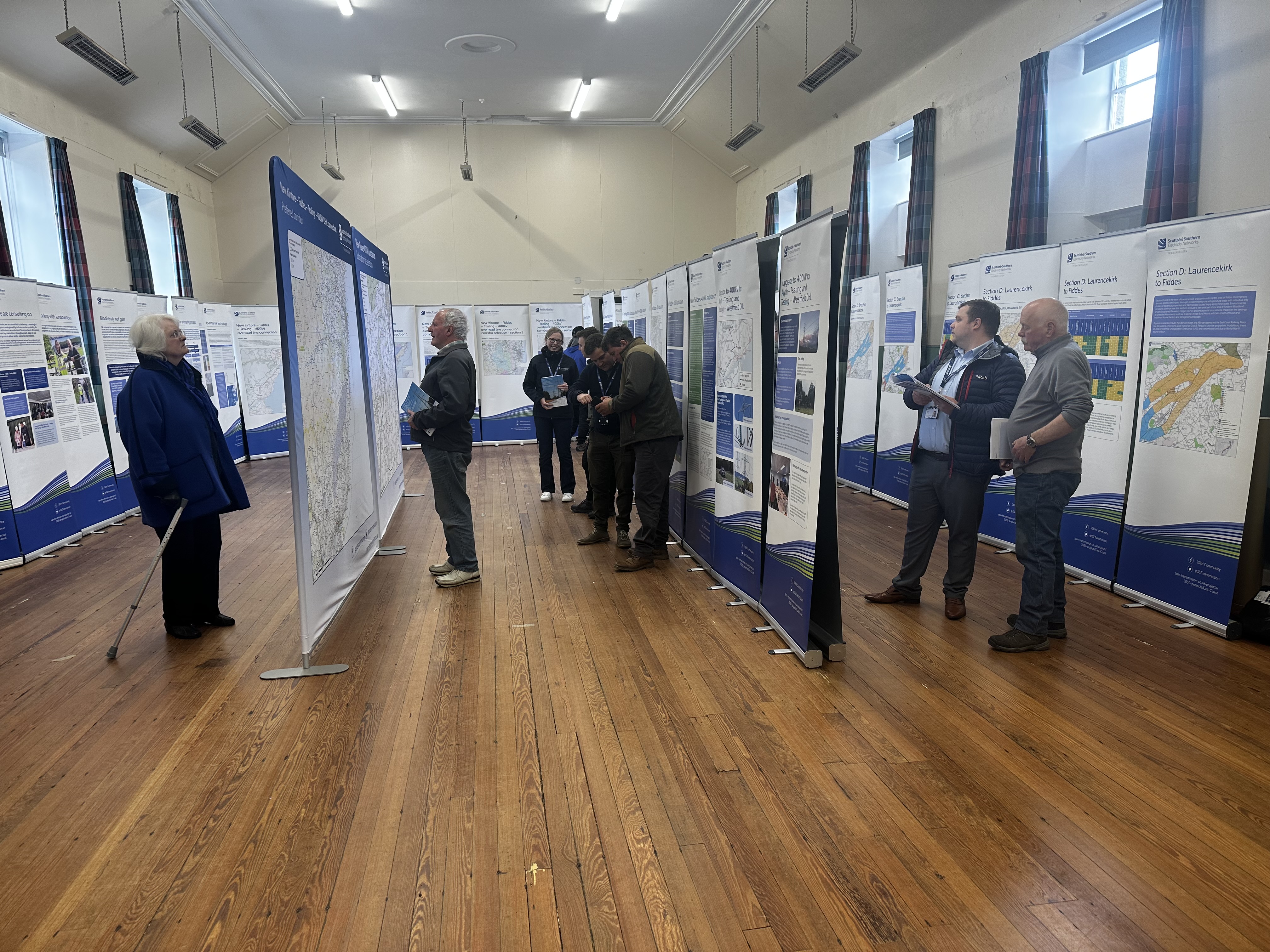 May 2023 consultation feedback
We would like to thank all local community members and stakeholders who took the time to attend our recent May 2023 consultation events which took place between 2-11 May, with 6 in-person consultations between Kirkton of Skene and Tealing, and a virtual live instant messaging session on 17 May.
Our public consultation will remain open until
23 June
, and we would welcome all interested parties to submit their views regarding the proposals presented during consultation. Once the consultation period closes all feedback will be assessed and considered, to help determine next steps required ahead of route determination.
Our virtual consultation portal will remain available throughout the consultation period via the following
link
. The portal contains links to download the consultation booklet and copies of the maps, however these are also available to download via the 'Project Documents' section on the left hand side of this page.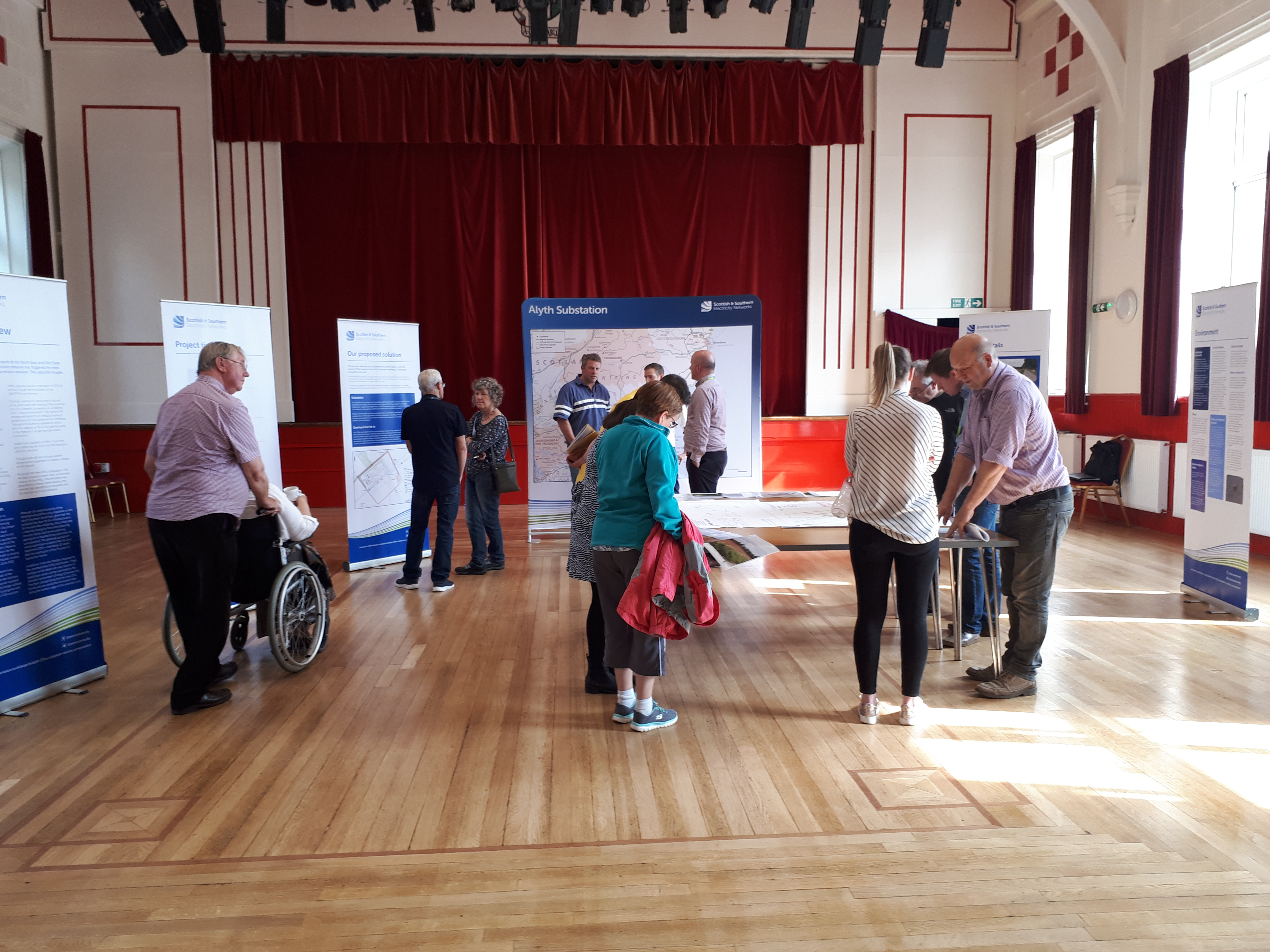 Public consultation events - May 2023
We are pleased to be hosting both face to face public consultations along with a virtual online consultation exhibition to gain views and feedback on our proposals for the East Coast 400kV phase 2 scheme, which the proposed new Kintore to Tealing 400kV overhead line project is part of.
We would encourage members of the local communities and all interested parties to attend the events, meet the proejct team and and give their views and provide feedback. The face to face consultations will be held at the following locations:
2 May at Milne Hall, Kirkton of Skene between 2-7pm
3 May at Ardoe House Hotel in the Ogston Suite between 2-7pm
4 May at Dickson Hall, Laurencekirk between 2-7pm
9 May at Brechin City Hall, Brechin between 2-7pm
10 May at Westmuir Hall, Kirriemuir between 2-7pm
11 May at Tealing Village Hall, Tealing between 2-7pm
The virtual consultation event will be taking place on:
17 May between 4-6pm
Should you have any questions regarding the consultations please contact the projects Community Liaison Manager.
2023 public consultations
We are intending on launching initial public consultation events in quarter 2 of 2023 to share our approach to develop this project and the rationale behind our proposals. We are keen to hear our stakeholders views regarding our preferred technology options along with your thoughts on both our preferred route and alignment options for the new transmission line and if there are further considerations you believe need to be taken into account during the next stage of the development process.
Drop-in events will be arranged at various locations and times between Kintore and Tealing where we will welcome all interested parties to come meet our project development team, learn more about the project, ask any questions and share your feedback. Information on the consultation dates and locations will be shared in the New Year.
In the meantime to learn more about the project an information booklet is availabe to be downloaded from the project documents section of this website and to hear from our Senior Development Project Manager Calum describe the approach we are taking to develop our proposals and the opportunities that will be available for stakeholders to feed in to the design process please view our short video
here
.
Project Gallery
Project FAQs
FAQs
These projects are steered by the National Grid ESO, and we are currently investigating options for an overhead line (OHL). Should there be a requirement to use underground cable (UGC) for a specific section of the route then this will be investigated.

OHL is currently favoured for the majority of the route for several reasons, including the following:  

• The cost is 4-6 times higher for cabling and as a regulated business we must provide best value for customers
• Operation and maintenance – it is easier to identify and address faults for an OHL. OHL also provides greater flexibility to upgrade based on future network requirements.
• Land-use – UGC would require construction land width of approx. 50 m along the entire length which once reinstated, land use restrictions may apply to this width to avoid risk of cable damage. Land use beneath OHL can generally return to previous use, although the operational corridor must remain free of trees.
• Community impact (visual and noise) – OHL generally have a greater visual and noise impact than UGC however, long distance UGC would require additional equipment above ground to maintain stability of the network or to convert power from DC to AC.
• Environment (land take) – the impacts to sensitive habitats and soils & geology associated with 50 m construction width for UGC would be substantial. OHL impacts are limited to tower footings, which can often be micro-sited to avoid sensitive habitats. Although impacts associated with access tracks also need to be considered.

Specifically relating to this scheme, the following points are important to note:

•           No 275kV or 400kV underground cable on the SSEN Transmission network, only 132kV and HVDC
•           Due to the voltage and capacity of the proposed circuits it could lead to more infrastructure required:
•           Reactive compensation compounds
•           Substation like compounds to stabilise the network
•           Could be a frequent as every 10-15km of UGC
•           Suitable compound locations may drive the cable route
•           Joint bays, testing locations and cable sealing end compounds will be required
•           Longer construction timescales
•           Wider construction corridor creating potential for greater impact

There are a number of new offshore cables being proposed as part of the "Pathway to 2030" scheme. This project is required to supplement these offshore cables. The project enhances the onshore capacity of the east coast of our network area to enable the significant power transfer capability needed to take power from large scale onshore and offshore low carbon renewable generation in the north and northeast of Scotland, which cannot wholly be accommodated by both offshore links from Peterhead.

In addition, East Coast 400kV Phase 2 is required as onshore works to utilise (a) the offshore link out of Fiddes that forms part of the HND east coast coordinated offshore network (for further export of power offshore direct to demand centres in England), and (b) the subsea link from Westfield substation in the Scottish Power Transmission area.

The T-Pylon has been designed and developed to suit the needs of National Grid and their operating area in England and Wales. Unfortunately, this means it not readily suitable for the use in the North of Scotland for several reasons:

Loads from the weather, such as wind and ice, are much more severe in SSEN Transmission's operating area compared to National Grid's. As a result, the span between structures would have to be reduced from the current 350m. This would mean more structures being needed, which would increase the visual impact, the land occupied and the amount of construction traffic on the roads. The lattice steel towers proposed by SSEN Transmission can readily do spans between 350m and 400m.


The composite material used to make the diamonds on the T-Pylon could have a life span as short as 20 years, compared to the 40-50 year life span of the glass insulators used on lattice steel towers. Due to the size and weight of the diamonds, combined with the need to lower the circuit completely to replace the diamond, there would be the potential need for a major refurbishment scheme every 20 years.


The steel pole sections of the T-Pylon are around 3.5m in diameter, and with an overall structure height 35m; it would likely require around 6-9 large low-loaders to deliver the structure to site. This would have a significant impact on local traffic, particularly where roads pass through communities.

Additionally, such vehicles may not be able to reach more remote sites on single track roads. Use of the T-Pylon would potentially limit any new lines to major roads and prevent the routing of lines away from communities where possible. Steel lattice towers are delivered as bundles of angle steelwork and can be transported by fewer and smaller vehicles, reducing the impact of construction traffic.


Due to the concentration of the loads at the base of a narrow pole, rather than over the wider spaced legs of a lattice steel tower, the T-Pylon requires a substantial foundation with a large amount of concrete which is not possible to source in some areas of Scotland. 


The T-Pylon design can only turn angles up to 30°. Existing lattice steel tower designs can turn up to a 90° angle. This greatly improves the ability for new lines to avoid communities, viewpoints, and site scientific and environmental importance. Using the T-Pylon with its limited ability to change direction of the powerline, would greatly reduce SSEN Transmission's ability to route the line to minimise its impact.


The T-Pylon supports an entire circuit on a single diamond. In the unlikely event of a failure the entire circuit would be lost. Due to the size and weight of the combined compared to smaller individual insulator sets used on lattice steel towers, they would take substantially longer to repair, greatly increasing the time to restore power.


The new overhead line (OHL) can follow the existing lines in some areas where other constraints allow, and the route options demonstrate sections where this may be feasible in parts. Since the existing line was developed in the 1950s/60s there have been changes to environmental and consenting requirements that mean routeing the new OHL entirely adjacent to the existing OHL would be difficult to consent. 

There are numerous properties that have since been developed very near to the existing OHL.  Positioning the new OHL in the same area would potentially infringe on these properties and may cause them to be encircled by both OHLs.  In addition, there can be effects known as a wirescape (when several OHLs are in the same area) that can cause the new and existing OHLs to appear more obvious in the landscape.  These issues would be considered a high impact and may risk consent for the project. 

The route options of the OHL aim to maximise the distance to residential properties where possible and this would be very challenging while following the existing OHLs.

The existing OHL between Alyth and Kintore is currently being upgraded for 400kV operation. The existing 275kV OHL between Tealing and Kintore is not suitable for 400kV operation. The towers are not tall enough to provide suitable 400kV clearances. In addition, the towers are unlikely to be strong enough to cope with the additional weight of 400kV conductors. The new OHL is required to provide capacity in addition to what the existing OHLs carry.

LiDAR flights and drone surveys that have commenced to undertake aerial surveys on potential overhead line routes, alongside other assessments, to help inform the ongoing development of this project. These initial surveys have prioritised those routes which based on our initial assessment of key environmental, technical, and economic factors were identified, on balance, as performing the best. However, please be reassured that no decisions have been taken on potential overhead line routes or substation locations. The drone surveyors have used paint that will wash away as a ground control point.

SSEN Transmission has recently announced its development of a Community Benefit Fund. This fund is the first of its kind for a Transmission Operator in Scotland and will provide a direct opportunity for SSEN Transmission to work with Communities directly hosting the transmission network on a variety of initiatives that will be Community led and directly support communities across the North of Scotland.

The Community Benefit Fund will form a core part of our social and economic support in the communities and regions we operate in. The aim of the fund is to recognise the vital role local communities play in hosting the transmission network by providing a source of funds for community-led initiatives that have the potential to changes lives and create a sustainable and positive legacy.

The project is funded through the use of system charges on all GB users of the electricity network and is part of a GB wide programme of works that are required to meet UK and Scottish Government 2030 energy targets.

Ofgem is Great Britain's independent energy regulator. SSEN submit a detailed cost assessment for the project to Ofgem which is thoroughly reviewed and assessed by qualified Ofgem staff. Once complete, the project is subject to a post-delivery review, and if applicable, the majority of any underspend is returned to consumers. Any approved overspend is also shared on the same basis.

The project is funded through the use of system charges on all GB users of the electricity network and is part of a GB wide programme of works that are required to meet UK and Scottish Government 2030 energy targets.

SSENT submit a detailed cost assessment for the project to Ofgem which is thoroughly reviewed and assessed by qualified Ofgem staff. Once complete, the project is subject to a post delivery review, and if applicable, the majority of any underspend is returned to consumers. Any approved overspend is also shared on the same basis.

SSEN Transmission is responsible for maintaining and investing in the electricity transmission network in the north of Scotland and our network extends over a quarter of the UK's land mass, crossing some of its most challenging terrain.
Our operating area is home to vast renewable energy resources, and this is being harnessed by wind, hydro and marine generation. Working closely with National Grid Electricity System Operator (the 'ESO'), we enable electricity generators to connect to the transmission system, allowing the electricity generated by them to be transported to areas of demand across the country.

Following a minority stake sale which completed in November 2022, SSEN Transmission is now owned 75% by SSE plc and 25% by Ontario Teachers' Pension Plan Board.

SSE plc sold its UK domestic electricity and gas retail business, along with domestic energy services to OVO Energy in January 2020 and no longer manages these customer accounts.

It's the highest voltage electricity network in the UK – the 'motorway network' of the energy world. It transmits large quantities of electricity over long distances via wires carried on a system of mainly metal towers (pylons) and large substations. Transmission voltages in Scotland are 132kV, 275kV and 400kV. Larger generation schemes usually connect to the Transmission system.

The lower voltage parts of the system are called distribution networks. In Scotland, these local networks operate below 132kV whereas in England the distribution network includes 132kV.

As a stakeholder-led business, throughout the life of our projects, we aim to work positively with local communities and keep people informed about what we are doing. This is particularly important when we are developing new projects, we want to understand what local people think about our plans.

We always endeavour to take the time to discuss our proposals with local community councils and the wider affected community and to carry out engagement throughout each of the development stages, listening to feedback before finalising project plans. The feedback we receive is vital to help us develop proposals that reflect the views of a variety of stakeholder.

To find out more about a project, visit our project web pages which can be searched by location or area. Each project has a dedicated Community Liaison Manager that you can contact. You can find their contact details in the individual project pages, where you can also sign up to project updates.
We would like to send you relevant communications via email, such as invitations to stakeholder events, surveys, updates on projects and future developments. If you are happy to receive email updates, please opt-in by ticking the box. You can unsubscribe at any time by contacting us at unsubscribe@ssen.co.uk, or by clicking the 'unsubscribe' link which will be at the end of each of our emails.
Recite me
To support everyone online, we provide accessibility and language options on our website through 'Recite me'. The accessibility and language support options provided by 'Recite me' include text-to-speech functionality, fully customisable styling features, reading aids, and a translation tool with over 100 languages, including 35 text-to-speech. Please select "Accessibility" on our website to try out our inclusive toolbar.

To make use of this function please click on the 3 'A's' button at the bottom left of the website.
Latest Links
Report on Consultation

Our Reports on Consultation across our three new overhead line projects and associated substation and convertor station developments have now been published. These reports provide a summary of the extensive feedback received during consultation, how this has been considered and confirmation of which routes and substations are now being taken forward to the next stage of development.

Our Reports on Consultation are now available to download from the Project Documentation tab.

Summary Reports on Consultation are also available for each of the three schemes and can be downloaded below:

A stakeholder webinar available for all to join will be held in the coming weeks to share the changes informed by the feedback. More information about the forthcoming webinar will be shared on our events page shortly.

In further recognition of community feedback, we will seek to rationalise cumulative infrastructure impacts through the removal and undergrounding of existing transmission lines, where technically practical and appropriate, and subject to all necessary planning consents and landowner agreements.

Work to identify and assess potential sections of existing overhead line where their removal will reduce cumulative impacts is ongoing, with an update expected as part of the next round of public consultation on overhead line alignments and more detailed substation designs in early 2024.

We would once again like to thank all stakeholders who took the time to engage with our early consultation process. We will continue to engage with stakeholders ahead of consulting further with local communities and stakeholders in the new year, as we look to refine our proposals.

Report on Consultation

Over the course of this year, we have undertaken extensive consultation on plans to upgrade the electricity transmission network across the north of Scotland and have received a considerable amount of feedback from a wide range of stakeholders regarding our proposals.

We recently advised in our next steps for 2030 network developments update that following assessment of consultation feedback and additional options analysis, we would publish our Report on Consultations (RoCs). These reports provide a summary of the feedback received and how it has been considered, which options we will take forward to the next stage of the development process and any changes to options initially consulted on.

It is our intention to publish the RoCs during the week commencing 27 November. All stakeholders signed up for updates on the project will receive a link to the report and we will also issue Summary Reports to help ensure accessibility.

These Report on Consultations mark the completion of the first round of non-statutory consultation, where we sought feedback on the corridor, route, and substation locations. We will be consulting further with local communities and stakeholders in the new year, as we look to refine the projects, therefore we welcome an open channel of communication and would like to reassure all stakeholders that there will be further opportunities to engage on this project.

Our Reports on Consultation and Summary Reports on Consultation are now available to download from the Project Documentation tab.

SSEN Transmission sets out next steps for Pathway to 2030 network developments

We have announced our next steps for our Pathway to 2030 programme of projects. We would like to thank everyone who has engaged with our teams and kindly taken the time to respond to our consultations.
Full details of the announcement can be found here:
Next steps for Pathway to 2030